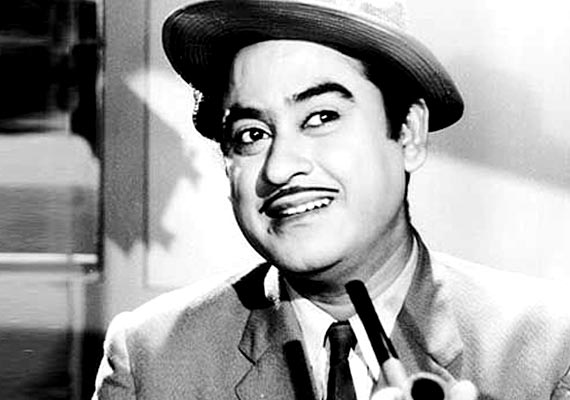 New Delhi: Kishore Kumar has left a treasure trove of his melodies that are cherished by the young and old alike even today.

Despite not having any formal training in music, the 'king of romantic songs' is remembered for his invaluable contribution to the music industry.

Born on August 4, 1929, Kishore Kumar became one of the most celebrated singers of Bollywood with his inimitable style and versatile voice.

Although he died in 1987, he is very much a craze even today as we hear the new versions of his evergreen songs in recent movies like 'Naino Mein Sapna' and 'Taki O Taki' (Himmatwala – 2013), 'Apni To Jaise Taise' (Housefull – 2010), Bachna Ae Haseeno (Bachna Ae Haseeno – 2009), 'Khaike Pan Banaraswala' (Don – 2006), Jhankaar Beats and many more.

Even people who don't understand Hindi language enjoy Kishore Kumar songs sung in his god-gifted and divine voice.

He is very famous among youth too. From youth to adult, everyone has a special corner for 'Kishore Da' in their heart.

Born as Abhas Kumar Ganguly, Kishore won the hearts of many with songs like 'Ek ladki bheegi bhaagi si', 'Mere saamne wali khidki mein', 'Dream girl' and many more.

On his 85th birthday, we pay tribute to the man whose everlasting voice gave a song to every heart.



1. Roop Tera Mastana: Aaradhna- This sensuous number has a special craze among young people, when it comes to romance.

Picturized on superstar Rajesh Khanna and beautiful Sharmila Tagore, the song will touch your soul. The magic of Kishore da's voice is unparallel.



2. Pal Pal Dil Ke Paas: Blackmail- This track from 'Blackmail' is as beautiful as it is melodious and as romantic. Dharmendra and Rakhee are looking top-notch in probably the most touching song of their mega careers.

Kishore Da effortlessly manages to touch the innermost chords of listener's heart. Lyrics like –'deewano ki ye baatein deewane jaante hain , jalne mein kya maza hai parwaane jaante hain' is a treat for music listerners.



3. Mere Sapno Ki Rani Kab Ayyegi Tu: Aaradhna- This peppy song from 'Meri Sapno Ki Rani' became one of the most popular songs of that era and even today you can find people humming this song now and then.

Kishore Kumar belongs to an extraordinary league of singers and his songs are mind and soul cleansers.




4. Chookar Mere Man Ko: Yaarana- This song from the movie 'Yaarana' arrests you from the get go and has you gasping for more.

The unparalleled and incomparable voice of Kishore Da conveys a plethora of genuine emotions.



5. Mere Saamne Wali Khidki Me: Padosan- This song is fun to listen and the way Kishore Da has sung it, no one other can ever do that way.

The peppy voice, funny expressions and feet tapping beats, you will surely love this number.



6. Humein Tumse Pyaar: One simply has to listen to understand the depth with which Kishore Da has rendered this song from the movie 'Kudrat'. It has seas of romance and oceans of emotions filled in it.



7. Dil Kya Kare: Julie- Forget the whole world and feel the sheer romance in the crystal clear voice of Kishore Da in this magical song from the movie 'Julie'.

With most touching line from the song – 'Daud Raha Hai Saath Lahoo Ke Pyaar Tera Nas Nas Mei, Na Kuch Tere Bas Mein Julie Na Kuch Mere Bas Mei', the song is one of the most popular songs of Kishore Kumar.



8. O Mere Dil Ke Chain: Mere Jeevan Saathi- Who says Switzerland fields, costly costumes, huge sets or 100 dancers etc. are required to make a song look beautiful?

The most romantic song of all time, O Mere Dil Ke Chain is wonderfully picturized on an Rajesh Khanna and shivering Tanuja from the movie 'Mere Jeevan Saathi'.



9. Pyaar Deewana Hota Hai: Kati Patang- The sentimental and surreal singing by Kishore Kumar in this song from 'Kati Patang' takes you to a totally heavenly level.

Rajesh Khanna glamorized piano playing with this heart touching number.



10. O Saathi re: Muqaddar Ka Sikandar- Picturized on Amitabh Bachchan, the song from 'Muqaddar Ka Sikandar' will leave you awestruck with Kishore Kumar's magical voice and unfeigned lyrics.

As you will plug in the song we are sure you will play it on repeat.